Dock & Door Sales & Solutions at Michigan Equipment Source
Quantum Lift Advantages
Our technicians have the core competencies to work on all makes and models of equipment. All employees focus on excellent customer service & first-time fixes done right. This strategy of building strong customer relationships, based on trust and integrity, continues to be the catalyst in Quantum's expanding customer base.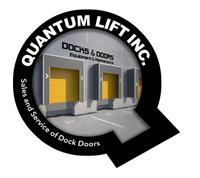 Dock & Door Services
We service ALL brands of Sectional doors, Rolling Doors, Entry Doors. We make sure every door in your facility is in operating condition with a Planned Maintenance Program.
Dock Levelers Service
From new construction to complete replacement levelers. We perform emergency service calls to routine calls. Our goal is keeping your docks in top condition; we know it is essential for your business to run. We service all docks, Mechanical, Hydraulic, Air Powered and Edge of Dock Plates.
Planned Maintenance Programs
Quantum Lift provides a comprehensive parts and scheduled maintenance program that will reduce the costs of emergency dock and door equipment. Our competitive edge relies on our heavy focus on customer convenience by ensuring rapid turnaround on all repairs. We can create a parts and service program specifically for your operation.
Building Services
Dock Seals/Shelters
Dock Bumpers
Vehicle Restraints
High Speed Doors
Strip Doors
Air Curtains
Concrete Pits
Dock Ramps
Safety Barriers
Contact Form
Quantum Lift, Inc.
21300 MacArthur Blvd
Warren MI 48089
Phone: (248) 909-4908
Toll Free: (855) 249-7163
Fax: (248) 549-9426
Hours
Mon - Fri 7:00 AM - 5:00 PM
Receiving 8:00 AM - 3:00 PM
Sat - Sun On Call